Maggie and I ventured to Dick Pond's today to get new shoes!!!!! It was great! I have never been to a running store or anywhere where anyone knew what the heck they were talking about. My last pair of shoes I bought at Kohl's and chose them because they felt ok and I liked the colors. Haha!
I tried on a whole bunch of different pairs, walked and ran on the treadmill and was told that I have great feet. Awesome! Maggie was pretty good the whole time and even made a new friend when she kept throwing her piggy on the floor. She was ready to be done in the stroller about 2 minutes before I was done so the other shoppers in Dick Pond's got to hear her scream. Sorry other shoppers!!! I got New Balance 760's. They are white and blue.
They aren't the color combo I would've chosen, but other than that I really like them so far. I wasn't really planning on running today, but I think I'm going to run out to the park for the softball game.
Oh and last, but not least
Hawks Win!!!!!!!!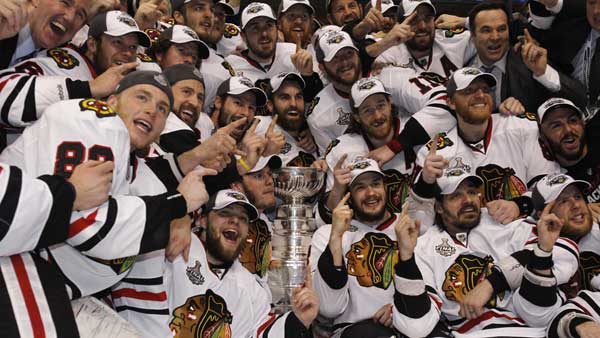 (image from
www.abc7chicago.com
)
They brought the Stanley Cup to Chicago for the first time in 49 years and they were all so humble and team centered even after they had won! It was very nice to see! Go Hawks!!!